While I concentrate on my Christian articles for a while I am reposting articles from others that I find to be interesting and informative. I have a keen interest in science. Solar flares are behind a number of major problems we have encountered over the past few years. It will be interesting to see what happens on Friday . Jim D.
MidnightWatcher's Blogspot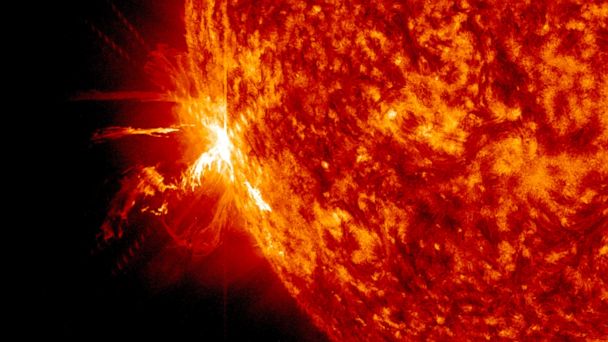 A solar flare erupts on the surface of the sun, June 10, 2014. (Goddard/SDO/NASA)
By Colleen Curry, ABC News – "The sun has had three major solar flares on its surface in the past two days that have affected communications on Earth and could send a shockwave through Earth this Friday, according to the National Oceanic and Atmospheric Administration.
The 'solar events' caused brief blackouts in high frequency communications when they struck, twice on Tuesday morning and once this morning, all between the hours of 7 a.m. and 9 a.m. EDT.
Solar flares are bursts of radiation on the sun's surface. The disturbance to Earth's atmosphere can disrupt GPS and communications signals, according to NASA.
One of the flares created a 'coronal mass ejection' that actually could come into contact with Earth on Friday, according to NOAA. The ejection is essentially a huge cloud of plasma that could hit the Earth and…
View original post 52 more words